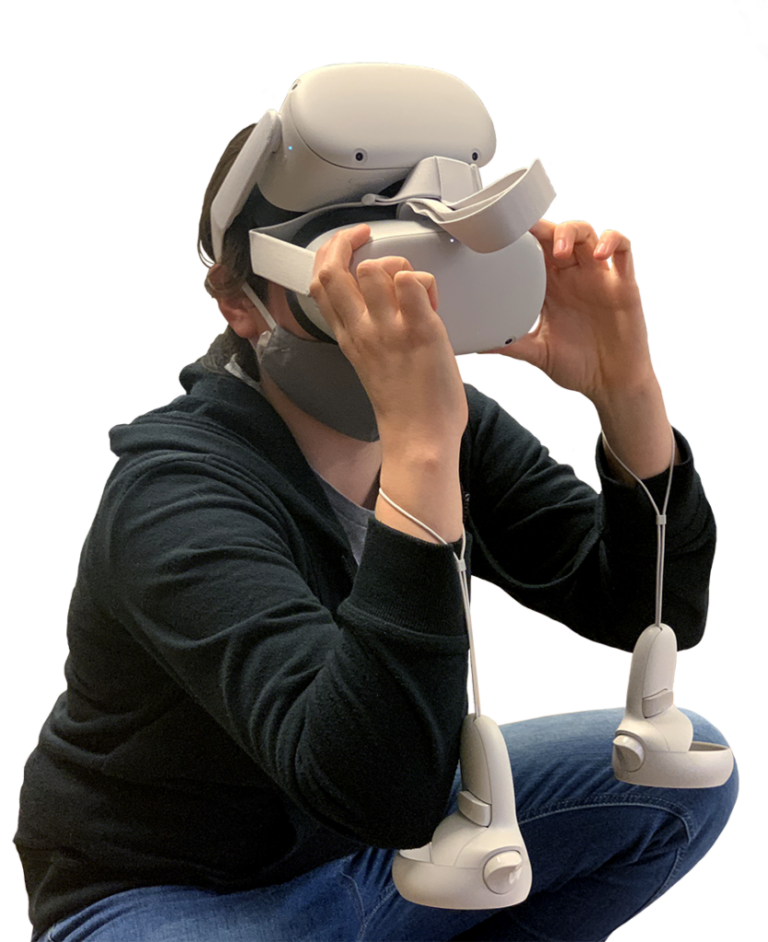 Nice to meet you!
I am a generalist game designer with years of experience in the development of Mixed Reality applications.
Currently, I am working as a Mixed Reality Experience Designer at the NMY Mixed Reality Innovation Studio.
Below you can find samples of my work.
During my studies I have gathered diverse experience in game development with a focus on VR and UX.
Testing out new mechanics on paper and in engine is essential for me to make sure they will work as intended.
Every day is a school day. I don't know everything and that's okay! Life would be very boring otherwise.
Whether it is about teamwork, project management or presenting concepts – communication is always key.
I love to visualise ideas, concepts and user interfaces with pen and paper, but also with Illustrator and Photoshop.
Cologne Game lab // ReleaseD
Location-based AR App for Android and iOS (Unity)
Cologne Game Lab // RELEASED
Co-Location Multiplayer VR Experience on Oculus Quest (Unity)
In this 4-player VR experience, developed for the new
Zukunftmuseum
in Nürnberg, you step into a future projection to find out as much as you can about possible timelines. Enjoy a stroll around a fully robot-operated market and discover what 2050 Nürnberg has to offer.
research project // in development
Experimental Setup in VR for psychological research (Unity)
In cooperation with the University of Bonn, this project aims to provide psychologists with a tool to evaluate the difference between fear and anxiety in participants. The project won the XR Science Award for Best Practice in 2022.
Bachelor Project // Prototype
VR Escape Room for Oculus Quest​​ (Unity)
You are the first person on Mars – and you have to leave … NOW! The starting sequence of the escape pod has been initiated, but it needs some last-minute repairs. Fix things up quickly or the expedition might end badly!
Puzzle Memory Game for Android and WebGL (Unity)
Tricky Temple is a grid-based puzzle game in a tomb raider setting that will test your memory. Enter dark temple rooms and remember the path to the other side – or your fate is sealed.
Student Project // RELEASED
The Rapid Treasure Escape
Local Co-Op Racing Game for Windows and macOS (Unity)
The Rapid Treasure Escape is a fast-paced racing game where you are sharing a gamepad with a friend to control two trickster pirates on the run. Will you escape your pursuers and bring your treasure to safety?
Bachelor Thesis // RESEARCHGATE.com
Can't touch this?
Exploring the Concept of Affordance in VR
My Bachelor Thesis asked the question whether the concept of affordance can be of use in Virtual Reality applications. Affordance, a term coined by psychologist James Gibson, describes an object's interaction possibilities in relation to an actor. In my thesis, I used an integrative literature review to analyse and compare affordance frameworks applied to digital media, games, and Virtual Reality with the goal to extract an affordance model for VR applications.
Interested in my work?
Any questions, suggestions, ideas? I'd love to hear from you!